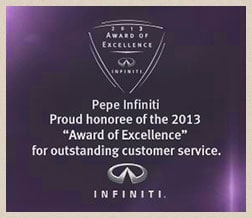 Elevate Your Driving Experience with a New Infiniti or Pre-Owned Vehicle from Pepe Infiniti Serving White Plains, Manhasset, Greenwich, Westchester, Manhattan & Ramsey

Since driving is something most of us do every day, it may not be very exciting for some people,   Pepe Infiniti is here to tell you it doesn't have to be a chore. More than that, we're here to prove it with a revered lineup of new Infiniti models and pre-owned vehicles - not to mention expert service, genuine parts and specialized auto repair. Everything you need to transform your daily commute into a joy ride and maintain that sense of satisfaction is right here,  under one roof.
Drivers will notice and appreciate our new Infiniti lineup due to its diversity. That said, there are a few resounding favorites, such as the 2013 & 2014 G37X, JX35, FX37, M37X, Q50, Q50 Hybrid, QX60, QX80 and QX56. To see what all of the fuss is about, simply drop by Pepe Infiniti of White Plains and take a spin.
Of course, you don't have to buy a new vehicle at Pepe Infiniti. You can also find an entire collection of like-new pre-owned  vehicles handpicked to satisfy different styles and performance preferences.  We place our used cars through a rigorous inspection proces so we are confident that you are purchasing a quality pre-owned vehicle.  
Everything Under One Roof: From new and pre-owned autos to flexible car loans & Infiniti lease options
Another thing that makes Pepe Infiniti unique is that here, when someone has found the new or pre-owned Infiniti that best suits their lifestyle and driving style, we are ready to help you drive it off our lot. Our savvy team of vehicle financing specialists have taken it upon themselves to rewrite that part of the classic car-buying story with a tenacious, take-care-of-the-customer attitude that ensures the most agreeable vehicle loan and Infiniti lease rates and conditions possible.
And even after signing the last dotted line, Pepe Infiniti remains committed to serving driver in the White Plains, Manhasset, Greenwich, Westchester, Manhattan & Ramsey area. To ensure you're satisfied with you driving experience for many years to come, we will be here to provide you with any Infiniti parts you might need. Or, if you'd rather do something other than tinker on your car over the weekend - expert vehicle service.
To learn more about Pepe Infiniti and the extensive new Infiniti models, pre-owned vehicles, parts and services we offer drivers throughout Westchester County, Manhattan, Long Island, New Jersey, Greenwich and Fairfield County Connecticut, please contact us today or check out our About Us page. Or, drop in on your way by. Located at 300 Central Avenue White Plains, New York, we're easy to find.