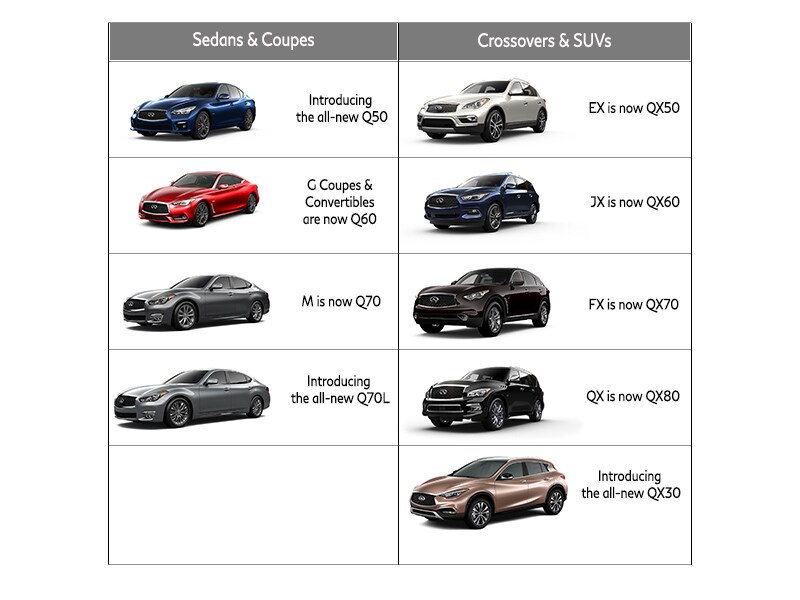 INFINITI has changed model naming conventions they have developed over the last 23 years by replacing the EX, FX, G, M, and JX with ones that start with the letter Q.
INFINITI is now using the Q badge for all sedans, coupes, and convertibles. QX will be reserved for SUVs and Crossovers. The two-digit suffix like the Q50, establishes the vehicle's place in the lineup. Unlike before, the number will not describe a vehicle's engine displacement.
Listed below is the complete breakdown of the model names changes:
G Coupes and Convertibles are now Q60
M is now Q70

The all-new Q50

EX is now QX50

FX is now QX70

The all-new Q70L

JX is now QX60
QX is now the QX80

The all-new QX30
Commenting on the revised naming philosophy, Johan de Nysschen, President of INFINITI Motor Company Limited, said: "Over the past few months, we have talked at length with our retailers, our customers, and our business partners about our brand. The need for a new identity and direction to promote consumer familiarity with our model range as we expand the portfolio became evident. To achieve this, we clearly needed a simple and consistent nomenclature framework. After exhaustive research and evaluation, we concluded that 'Q' captured the inspiration within the next generation of INFINITI models, as well as emphasizing our performance credentials while harking back to our heritage with the Q45 - INFINITIS first iconic flagship product in 1989."
Please contact PEPE INFINITI with any questions regarding the specific model names changes.