Thyme Lemonade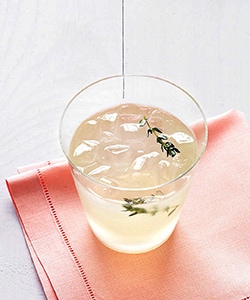 INGREDIENTS
1 1/2 cups sugar

1 bunch fresh thyme, plus sprigs, for garnish (optional)

2 cups fresh lemon juice (from about 10 lemons)

1 cup gin (optional)

DIRECTIONS

 In a medium saucepan, bring sugar, thyme, and 1 cup water to a boil; stir until sugar is dissolved, about 2 minutes. Stir in lemon juice, gin (if using), and 6 cups cold water; strain into a large pitcher. Refrigerate until cold, at least 1 hour (and up to 1 week). Serve over ice, garnished with thyme sprigs, if desired.